Blessed to Be a Blessing
To God be the Glory
Simple and secure giving one-time or recurring gifts. Click below.
In-person Worship-10:00 a.m.
We believe in radical hospitality driven by the abundance of God's grace!
Join us this Sunday celebrate God's amazing love for God's people.
You are welcome here! You are beautiful and unique.
We want to help you realize the gifts God has given you and join you in using those gifts to serve others.
For those who prefer, we offer worship via Facebook Live.
Please join us!
FAQ
Watch Live
Bring On The Burritos!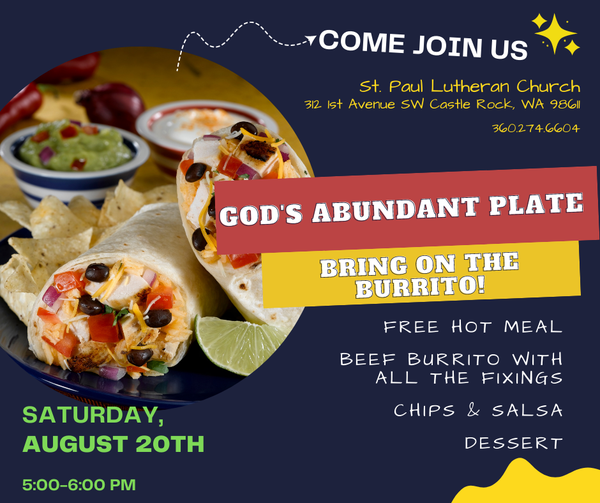 I
Sign up
St. Paul Congratulates High School Seniors
They've also earned their Associate of Arts Degrees at LCC!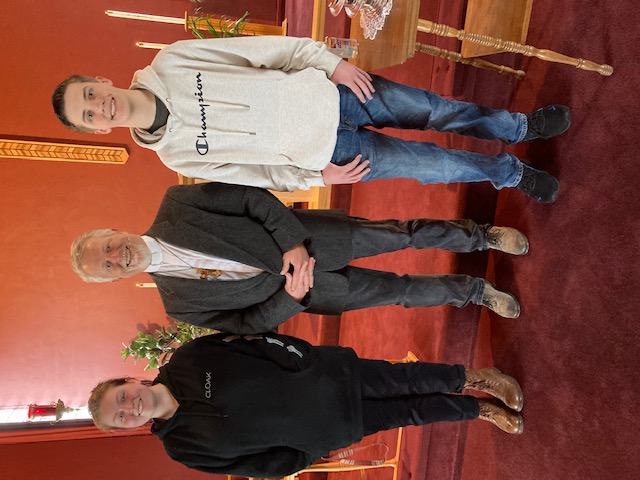 Samantha Whittaker and Hunter Lux take a moment with Pastor Norm Arnold after receiving congratulations from their fans at St. Paul. Heather is a Kelso High grad and Hunter graduated from Castle Rock High. Both also participated in Running Start at Lower Columbia College. Way to go Samantha and Hunter! Our prayers are with you.
Welcome New Members!
Marlene Rahn transferred her membership from Bethany Lutheran in Longview a few months ago. She is no stranger to St. Paul as she has been actively a part of the congregation for many years.
Mary Rosen has been a volunteer in various ways for the past few months - always willing to lend a hand by preparing communion, serving as an offering teller, helping with God's Abundant Plate meals. She recently transferred her membership from Celebration Lutheran in Puyallup, WA.
Curtis Thomsen has also been an active part of the congregation, namely using his cooking skills (Easter Breakfast) and willing to volunteer wherever there may be a social gathering around food. He transferred from Bethany Lutheran in Long Beach, CA. Curtis is the son of member Vineta Thomsen.
Daily Bread
Humble yourselves, therefore, under God's mighty hand, that he may lift you up in due time. Cast all your anxiety on him because he cares for you.